The question that comes to mind, and which has been asked by my observant fiancee, is why is that lanyard hanging off my sunglasses and not wrapped (tightly perhaps) around my neck?
I allowed myself to sink into a 20-year reverie (not a 20-year long reverie, but reminiscing back to 20-years past) and I remembered why I never wrapped that cord around my neck. The reason: I used to keep those glasses slung over the rearview mirror of my car, which was quite possibly a bronze-colored Volare station wagon at that period of my life, which eventually bit the dust and which a friend and I almost lost on I-78 while towing it behind his pickup truck up Jugtown Mountain. It was a pain in the neck to wear that lanyard around my neck, get it under all that glorious long hair, which some of you, the racists among you, are inordinately fond of referring to as a "mullet," only to have to extract said lanyard from beneath that gorgeous mane to re-hang from the mirror, and then to properly re-style the curly locks again. Mystery solved.
On close inspection, one might notice what appears to be an even longer lanyard hanging off my shoulders. Before you question it, I will reveal that it is the pull strings from the maroon hoodie I traditionally wore beneath that ultra-cool Lee jean jacket. (Racists refer to it as "dungaree.") I still have that jacket. It only fits half of me now.
By the way, I still have that guitar too. I've had it for 30 years now. Others have come and gone over the years. That one is still my one love, from the days of the mullet to the days of… well, yes, now I have a lot less hair. Sigh.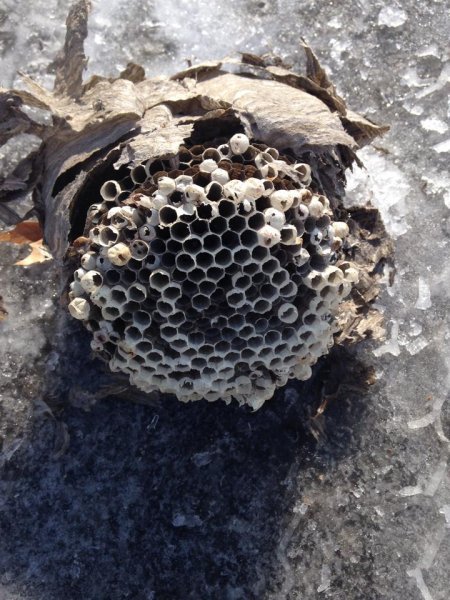 This is what the inside of a wasp nest looks like.
It got knocked out of a tree during our last snow storm.
Here's a good article about wasps from How Stuff Works: Click Here.
This winter has sucked for running for me. Between wrecking my hip, while bowling, of all things, and all the snow we've gotten, I've hardly gotten out to run at all.
But I changed that as of a week ago. Thanks to a few yoga classes I've taken recently, I discovered ways to improve my hip pain. A week ago, I could no longer stand not running. I almost literally dropped everything and ran out the door last Sunday morning. I ran 5 steady miles and found that running does not worsen my pain. That knowledge, coupled with promised pain improvement through yoga, has set me on the running path again.
Yesterday, I ran a little over 6 miles. I was tempted to go farther because I felt very good. I held off out of fear of further damaging myself.
It was also enjoyable out there yesterday because it was snowing. I had some motivational issues in the morning. But when I saw the light snow, I couldn't resist going out there. It snowed steadily and was starting to stick to the roads near the end of my run. I admit it was a little dangerous running out there due to roads narrowed by snow piles and decreased visibility at times when the snow was really coming down. But sometimes determination meets up with motivation and a guy has to just get out there and run despite the weather.
Best of all: I found a quarter on the road. So, it was a "profitable" run.
Yes, that is snow in my eyebrows. However, the beard is mostly white even in the summer. Such is life.